NEWS
freshness dated for your protection
---

LSL RADIO SHOW
Saturday's 7pm-10pm
LISTEN at 99.5fm WBAI covering the tri-state area +borders of Pennslyvania.

LISTEN on your SMARTPHONE via 'Tune-In'app for Android, Blackberry, Windows Phone, iPhone, iPad+more.


AUDIO ARCHIVES
LIQUID SOUND LOUNGE
The show is archived by date and available for two weeks.
go to: http://archive.wbai.org/
ALSO ARCHIVED AT: MIXCLOUD..Also, download free smartphone app and listen on the go!


Liquid Sound Lounge NYC- dj Jeannie Hopper wbai fm - September 27, 2014 7-10pm by Dj Jeannie Hopper on Mixcloud

Liquid Sound Lounge NYC-dj Jeannie Hopper wbaifm- April 19, 2014 Dance Parade show 7-10pm by Dj Jeannie Hopper on Mixcloud

NEW - DJ JEANNIE HOPPER PODCAST, SUBSCRIBE, DOWNLOAD AND LISTEN ON THE GO!

YOUR SUPPORT!! Become a BAI Buddy: $10 electronic donation monthly to WBAI=$2.33 donation per LSL broadcast, less than a fancy cup of coffee and just as gratifying (and tax deductible). You recieve a membership card that offers discounts and perks to cultural events and places around the city +a FREE WBAI Tote Bag (we love tote bags!). If WBAI gets just 7,000 of our members to commit, we can eliminate a fund drive, affording less interruption and more LSL radio shows!
goto: https://www.wbai.org/baibuddy.php
HAVEN'T RECEIVED YOUR PREMIUM?
If you have trouble receiving your premiums, please email us directly at info@liquidsoundlounge.com



JEANNIE HOPPER DJ SETS and RADIO SHOWS ONLINE and more:


Jeannie Hopper Soundcloud - DJ Sets!!


Clocktower Radio Operating at Clocktower.org
Jeannie Hopper channel "In the Hopper"!
Continually streaming set after set of over 20 hours of hopper musical bliss!
LISTEN :: DJ Jeannie Hopper's "In the Hopper"

LISTEN :: Jeannie Hopper's DJ Culture Radio Show
-DJ's and industry heads discuss the scene, give technical insight and share music. Plus loads of guest DJ sets curated by Jeannie Hopper:
-Includes interviews with: Tony Humphries, Kruder & Dorfmeister, Bonobo, Nickodemus, Kraak & Smaak, Kieren Hebden aka Four Tet, Jen Lyon of Meanred, Scott Hardkiss, Ben Watt, Earthman, Eli Wolf of Blue Note+more.

updated 08.19.14

---
DJ JEANNIE HOPPER-BIO & GIG-OGRAPHY


DJ EXTRORDINAIRE:
Her style has been described as "Soul infused grooves of all persuassions."-Muzik. Her unique multi-layered sound is best described as a journey that'll move and groove you and leave you wanting more! Upbeat and happy, not dark, her music is for those who love to be turned on to new music. She's dedicated to spinning independent unknown artists from a tapestry of genre's creating a priceless aural experience. She works in many scenes with fellow dj friends from the groovy to funky too super big room peak hour house! BRIT's say she plays 'proper house' and 'nice to see a woman spin who's doesn't need to exploit her sex appeal but rather uses her never ending fountain of talent.' DAVID MORALES (Def Mix) after dancing to her set in Athens, Greece commented "it's a breath of fresh air to hear someone truly spin from there heart creating an original uplifting environmnet." NICKY SIANO (Gallery & Inspira Records) after hearing the mixes he received from her for donating to her radio show said "me and my boyfriend dance and dance all over the apartment. The mixes are so uplifting. I even grabbed a couple of the tunes of the mix set for my own dj sets."


CLUB DJ (18+ years)
INTERNATIONALLY KNOWN FOR: 13 1/2 hour DJ set on the terrace with Danny Tenaglia at Space in Miami for Winter Music Conference 2001.
SHE'S BEEN INVITED TO SPIN WITH: Danny Tenaglia, Little Louie Vega, Francois K, Tony Humphries, Danny Krivit, David Morales, Todd Terry, Liquid Todd+more. -New York City -local lounges and dance clubs & parties including Cielo, Pacha, Spirit, Love, Canal Room, Roxy, Splash Bar, Nublu, Bar 13, Sullivan Room, Nickodemus & Mariano's Turntables on the Hudson, Francois K's Deep Space, Danny Krivit's 718 Sessions, Timmy Regisford's Shelter, Kervyn Mark's Melting Pot, True's Alma, Centro-fly, Tunnel, Save the Robots +more.
-London Residency: Bridge and Tunnel 2002-2005
-London - V-Festival, Fabric, Indulge, Xpress, Whistle Bump+more
-International touring DJ -Ibiza@Space; Portugal, Spain, Sweeden, Norway, Greece, Italy, Russia, Malaysia, Canada, France, U.K.

LIQUID SOUND LOUNGE BOAT CRUISE DANCE PARTY!!! The first and longest running boat dance party in both summer and fall in New York City! Check the listings on this site for more.
Google Jeannie Hopper and track it all...


RADIO - NYC and guest dj spots around the world (20 years)
-Radio Show: Liquid Sound Lounge est. 1993. New York City's only & longetst running prime-time electronic/dance music show dedicated to independent artists, dj's, remixers, producers, labels and conscientious artists, broadcasting Saturday's 7-10pm on WBAI 99.5fm (50,000 watt, covering the entire tri-state area, non-commercial station), streaming online and archived. Audience roughly 300,000.
-Producer
-Live Host
-Voice Overs
-Engineer F.C.C. licensed
-Disc Jockey
wbai.org

ART INTERNATIONAL RADIO, ARTonAIR.org / Clocktower.org:
Since 2009, WPS1.org ART RADIO, went independent of PS1/MoMA. The station carries on at the hisotric Clocktower Gallery in Tribeca. You can still enjoy a free stream of programs updated weekly with fresh content featuring music, interviews, and historic audio. Listen as culture is captured aurally to enjoy, to learn, to inspire! Jeannie Hopper continues to curate loads of music shows including her own "In the Hopper" music channel and interviews for her series DJ Culture. Best to put her name in the search engine to find all the many shows she's hosted, produced and musically assembled!


MUSIC CURATOR LIVE SERIES:
SUMMER SESSIONS - SMITHSONIAN INSTITUTE'S COOPER HEWITT NATIONAL DESIGN MUSEUM: She's the first 'DJ Curator / DJ Services' for the Smithsonian Institute summer 2007 and in the US governments listing of vendors. She's selected the line up for the Cooper Hewitt National Design Museum's SUMMER SESSIONS! She's spun at the series for 3 years. Due to construction budgetary issues, the series is on hold.
MoMA SUMMER CELEBRATION 2005-2006 SEASONS- Jeannie curated the bands and dj's for this grand funfilled series bringing art class to the masses where you interact with various artists who make you the artists thru their interactive activities throughout the PS1 courtyard where this takes place. 2006 the awesome live line up included the bands/groups MUDVILLE performed with TARA the contortionist, Mangatten Samba and Sufferin' Succotash.

ART RADIO WPS1 - PS1 CONTEMPORARY ART CENTER A MoMA AFFILIATE:
She created the first online radio station for the prestigious contemporary art center, PS1 Contemporary Art Center, a MoMA affiliate, bringing Alanna Heiss's, founder and director, dream of a radio station dedicated to the arts, to life. Heiss is also credited for embracing DJ culture and music by brining it into the art center including the first summer music series by a art center, PS1 WARM UP. Jeannie's the DJ curator for WPS1 DJ Sessions where you'll also find sets by Jeannie and more; and she produces various shows including her on-going series DJ Culture, featuring in depth interviews and insight into the indie dj world; and her eclectic show Liquid Love; plus you'll find many interviews with various artists from all over the world found in their on=going live coverage of art fairs and expos including Art Basel Miami Beach, Armory Art Fair NYC, and Venice Biennale, Venice Italy.

updated 010.14.14
EVENTS


Saturday, November 1st 6pm-10pm
CANCELLED DUE TO WATER CONDITIONS
Liquid Sound Lounge Boat Party 15 Year Anniversary!
Day of the Dead All Souls Day Soulful House Dance Boat Party!
The Original Soulful House Party on a Boat, est. 1999

Day of the Dead Party Cancelled Due to Water Conditions Forecast.

Unfortunately water condition forecasts are not ideal for us to continue with the party without taking a great loss.  Maritime reports show a 'Gale Warning' with up to 40mph winds and 4' ft waves for Saturday into the night.

We invite you to a party starting at 8pm in the downstairs of Westside Tavern and carrying on into the Easy Party.  Please do join us! Jeannie Hopper will be dj'ing from 8-10pm to start and than a later set along with Easy resident dj's Austin Downey and Brian Gately who are fabulous. Boat ticket holders names will be at the door. Any additional guests who did not pre-buy tkts to the boat we suggest a $5 donation to help recoup losses and any other donations are much appreciated.

TICKET REFUNDS:
-Full refund at point of sale less surcharges.
-WBAI donation for tickets, tickets will roll over to the next boat party.

Email us if you have any questions or concerns: LSLHopper@gmail.com

Stay tuned, DJ Jeannie Hopper +LSL Crew

EASY - Dead Can Dance - Official After Party
DJ's Austin Downey, Brian Gately and Guest Jeannie Hopper
Paradise Lounge- Westside Tavern's Paradise Lounge 360 West 23rd street near 9th Ave, South West side of street.
8pm-10pm - DJ Jeannie Hopper - LSL Boat Peeps Party
10:00pm-? Free to Boat Patrons. General Admission $5

Aboard The Jewel
Board 6pm / Depart 7pm / Return 10pm
East 23rd street @East River marina
Tickets:
$30 Advance Online +$2.04 surcharge / $35 Dock night of / $25 at Rebel Rebel +$3 surcharge.



$30 (cash only +$3 store surcharge) at Rebel Rebel- 319 Bleecker Street, btwn Christopher & 7th Avenue, West Village. 212.989.0770
(*surcharges apply)

Proceeds go to support Art For Progress. Partial porceeds go to support WBAI.
Promotional Love from Fusicology and Deep Dance





FOR MORE LISTINGS of cool parties, New York and other cities, GO TO:
fusicology.com


NOTE: Information is subject to change, please check back for updates.

For more details go to events
updated 09.18.14


SOCIAL NETWORKING ONLINE:
Jeannie Hopper Tumblr Blog: http://djjeanniehopper.tumblr.com

Jeannie Hopper Facebook Page (over capacity, thus join the fanpage):
facebook.com/jeannie.hopper

Liquid Sound Lounge Facebook Group Page:
The playlists are posted during the show for you to check out:
facebook.com/groups/liquidsoundlounge


Liquid Sound Lounge Facebook Fan Page:
The playlists are posted during the show for you to check out:
facebook.com/liquidsoundloungeltd

Jeannie Hopper Twitter Feed:



Jeannie Hopper Soundcloud - DJ Sets!!
http://soundcloud.com/jeanniehopper


Liquid Sound Lounge Radio Show Archives!!
http://Mixcloud.com/jeanniehopper


Jeannie Hopper Myspace Page:
myspace.com/jeanniehopper


---
PHOTOS


Photo's are up from The LSL Fall Equinox Boat Cruise. For more photos go to photos

LIQUID SOUND LOUNGE HALLOWEEN COSTUME BALL AT BAMcafe Live! Check out the photos: LSL Halloween Party Photos 2009 LIQUID SOUND LOUNGE 15 YEAR ANNIVERSARY PARTY AT BAMcafe Live!
---
LATEST RELEASES
For the entire LSL Recordings catalogue go to recordings.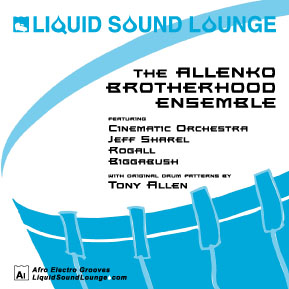 Liquid Sound Lounge soon to be available for digital download.
TO PURCHASE VINYL VIA MAIL ORDER PLEASE GO TO: http://www.gemm.com
YOU CAN ALSO SPECIAL ORDER THRU DISC-O-RAMA IN NYC. West 3rd street between 7th & 6th avenues or Dance Tracks East 3rd street between 1st & 2nd avenues or Halcyon in Brooklyn's DUMBO area under the Manhatten Bridge overpass near Pearl street.


"MORE TO LOVE" ROZZ NASH -LSL238
The LSL label is rockin' releases once again. Rozz Nash's vocals are on point with this jazzy R&B tune that is simple and to the point 'there's more to love than saying I love you.' The original features Rozz's live band. There's the 'broken contra-bass mix' by Tony Edwards and a remix by Victor Simonelli takin' you on a serious dance journey that had all at Club Shelter cheering. The single is only available at Dance Tracks and Halcyon in New York as a 'white label' limited edition promo with a commercial release this fall. There's a follow up with remixes by Jon Cutler, KLASH, and Bell-Hop to be released first thing in 2004.

"THE ALLENKO BROTHERHOOD ENSEMBLE" TONY ALLEN -LSL237
with Jeff Sharel, Cinematic Orchestra, Rogall, and Biggabush.
LSL released a 4-cut album sampler on vinyl of the Shanachie Records CD full-length release "The Allenko Brotherhood Ensemble". The vinyl sampler features Tony Allen's afro-beats produced into original cuts by: Jeff Sharel, Cinematic Orchestra, Rogall, and Biggabush. Tony Allen and the Comet crew came to her set in Belgraad at the enormous Exit Festival where she spun to 20,000+ crowd with the Nuphonic crew: Faze Action, Block 16 and Jools.

"TELEPATHY" LOUIE BALO feat. JEANNIE HOPPER -LSL236
Don't forget Louie BALO's latest release featuring Jeannie's wordology, entitled "Telepathy"! It got a little buried in the post 911 vinyl release trauma. Someone out there,however, has worked the vocals onto there own record release..hmmm... Who might that be? If you know, let us know. We love to track the acapella action which seems to be keepin' this number in dj's crates. If you've done a mix, send it to us. We'd love to hear it. We are currently working on new mixes for "Telepathy" and will re-release the original along with the new mixes. It's meant to be gritty and chunky and also has loads of live instrumentation going on in it including the stupendous organ solo by Robert Aarons of Wyclef Jean and the ole eightball days.

"GUIDING LIGHT" LOUIE BALO feat. JEANNIE HOPPER -LSL235
NRK Records, June 2002, re-released this gem featuring new mixes from Pete Heller. It's on so many decks still workin' the crowds since it's original LSL release back in May 2001. You can also find "Guiding Light" on two CD compilations -- one mixed by DJ Garth on NRK records - UK, and the other mixed by Grammy award winners DEEP DISH MOSCOW compilation for the GLOBAL UNDERGROUND series.

EMO "So Fine" and "Push On" featuring remixes by Les Gammas and Zeb. Listen to all four mixes at www.emo.dk/[more]
updated 06.20.07