Artists

INTERNAL BASS RECORDS, U.K.
the label dedicated to groovy music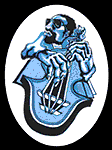 Check out: The jazz alchemy of Down To The Bone (DTB), fusing the Rhythms of Soul+Funk+Hip Hop+Jazz = Urban Grooves. DTB's successful debut album "From Manhatten to Staten" was followed by the "Urban Grooves" album. They toured the US in 1999 w/members of Brand New Heavies and Jamiroquai in celebration of the "Urban Grooves" album. The AKA project debuted their first album "Adventures of FF Man" in 1999 as well. Again an album not to be missed in any true groovy music collection. Whether you call it acid jazz, new soul, groove music or just good music this is the label to satisfy your needs. Check out their site to purchase direct and listen to the latest artists and their releases. www.internalbass.com
---
LIQUID SOUND LOUNGE PROMOTIONS PRESENTS
West End Records recording artist
Ednah Holt
"Serious, Sirius Space party"
This digitally remastered classic includes the unreleased Serious Sax Dub on limited vinyl. The original is included on the CD compilation release...for more information check out www.WestEndRecords.com

Spotlight Artist

STEPHEN SIMMONDS
"Spirit Tales"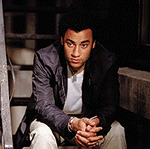 "Spirit Tales" is Stephen Simmonds debut album on Priority Records to be released September 2000. Stephen Simmonds covers a range of vibes from Stevie Wonder to Maxwell. Some LSL favorites include,"Universe" that captures a universal energy equivalent to the likes of Sting and Peter Gabriel. "Get Down" and "If I Was Your Man" show influences of early Prince and Stevie Wonder. The remix 12" features interpretations by JazzMoses, legendary NYC DJ Jazzy Nice and his production partner Mitch Moses, and interpretations by HipBone talents Vicki Bell, Peter Adams and Ray Grappone. JazzMoses includes the superb bass guitar talents of Groove Collective's very own Jonathan Maron. That's just the first 12". The latest Stephen Simmonds remix 12" "I Can't Do That" is set for release in July. "I Can't Do That" features remixes by Masters at Work, Little Louie Vega and Kenny Dope Gonzalez. DJ's are in a frenzy trying to get their hands on promotional copies. At Shelter Timmy Regisford's crowd are singing the words! The video is already running on BET.
Stephen Simmonds' "I Can't Do That" is the second single featuring remixes by Masters at Work. The remixes will be released on 'vinyl only' July 2000 through Priority Records. Stephen's album "Spirit Tales" is slated for release Fall 2000.