CURRENT RELEASES
---
The Allenko Brotherhood Ensemble
Original drum patterns by Tony Allen in collaboration with Jeff Sharel, Cinematic Orchestra, Biggabush, and Rogall
Catalog No.: LSL237

LSL presents a limited edition vinyl album sampler in conjunction with the Shanachie Records full length CD release.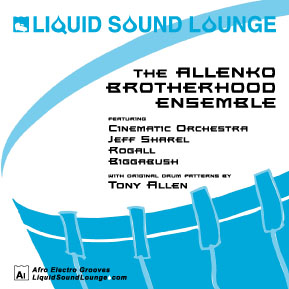 ---
Use the links on the left for previous LSL releases.

To purchase LSL Recordings, try the links below:
THROB

DANCETRACKS

SATELLITE RECORDS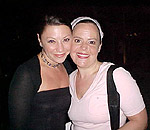 Bell-Hop remix team's Vicki Bell and Jeannie Hopper at the Maxi pool party, Miami Winter Music Conference, March 2000.
[more photos]

DJ Jeannie Hopper brings together the multiple rhythms of club music, righteous wordologists and soulful musicians on her record label Liquid Sound Lounge (LSL) Recordings. Signed artists include: Martha Cinader and Astronauts of Antiquity. One off artists include: Groove Collective, Birth of Cool and Cubic U.

The label was created to give exposure to new artists seeking a Liquid Sound Lounge Sound. LSL arranges remixes which compliment the artist and exposes the artist via vinyl and CD releases. This allows the artist to develop an organic sound and following before going on to sign to a major record label. "I'll Be Stronger" by Cubic U is an example of this process. The project remixes were produced with our signature sound and distributed through the underground on vinyl which successfully generated major label deals with Toshiba/EMI Japan and Virgin UK/USA.

Remixers and producers also come to LSL seeking exposure through our vast vinyl driven dj audience in clubs, lounges, boutiques, radio, on line and in print.