THE ALLENKO BROTHERHOOD ENSEMBLE
Original drum patterns by Tony Allen in collaboration with
Jeff Sharel, Cinematic Orchestra, Biggabush, and Rogall

LSL presents a limited edition vinyl album sampler in conjunction with Shanachie records full length CD release
catalog no.: LSL237
Real Audio Samples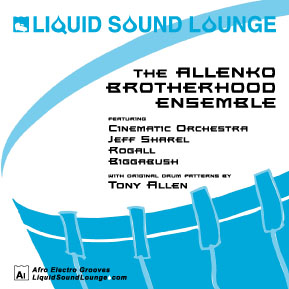 Tony Allen, drummer from the late Fela Kuti's "Africa 70" band, is one of the progenitors of the "AFROBEAT" sound. Tony Allen laid down various drum patterns and passed them on to DJ/producer's who than created original cuts that became the "ALLENKO Brotherhood Ensemble" full length collaborative project. Originally released on Comet Records (France), this innovative project saw very limited availabilty in the US. Now, through both the LSL vinyl sampler and the Shanachie CD, it will finally be widely released state-side!

REVIEWS
(of the original Comet release)
"The Allenko Brotherhood sets DJs, producers, musicians and vocalists loose over drum tracks by the former drummer for Fela, Tony Allen, and doesn't give your feet a rest"
- The Arizona Republic's "Best Obscure Music of 2001"







-www.africanhiphop.com