LIQUID SOUND LOUNGE RECORDINGS PRESENTS
"I'll Be Stronger"
Cubic U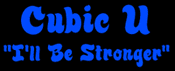 Liquid Sound Lounge brought Cubic U together with a host of NYC talents including Sabelle Jeffries backing her, Johnathan Maron-bass (Groove Collective), Jay Collins-flute and Genji Siriasi-percussion. Remixes included Jazzy Nice & Mitch Moses (aka Baby Buddah Heads) & Genji Siriasi of Groove Collective, Cookin' With Gas (aka the HipBone posse) and a fabulous House mix from Tony Edwards -Freedom Sound.
Cubic U was after a Liquid Sound Lounge sound and artist development. "I'll Be Stronger" received excellent reviews in Muzik/uk, Update USA, XLR8R & Dance Music Athority. It remains a favorite of many DJ's to this day. Cubic U signed multiple deals with Toshiba/EMI Japan, Virgin UK & USA. In 1999 their first album went double platinum in Japan. "I'll Be Stronger" was only available through a 1,000 piece of vinyl.