SHOP
CLOTHING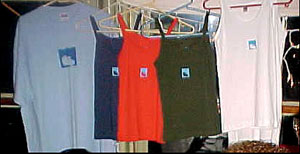 left to right
True Blue T-Shirt
100% Cotton, Royal Blue Logo on Light Blue. "Liquid Sound Lounge" on Back. Sizes: S,M,L,XL and Baby T

Women's Spaghetti Tank
100% Cotton, Light Blue Logo on Denim, Orange or Olive. "Liquid Sound Lounge" on Back. One Size

Tank Top for Men and Women
100% Cotton. Light Blue Logo on White. "Liquid Sound Lounge" on Back. Men's Sizes: M,L,XL. Women: One Size
---
TOWEL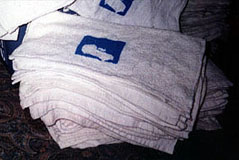 For those all night into the next day dance parites. Functional and looks great hanging off your butt. So ask your butt if it wants to represent. 100% Cotton, approximate size 14 x 17 inches. Flourescent Blue Logo on White Terry Cloth. Available at our next boat cruise. [see events]. Read "The Story of the Liquid Sound Lounge Sweat Towel" (see right»)
---
VINYL & CDS



You can purchase our vinyl online at Testpress.com
choose "L" from menu.
The Story of the Liquid Sound Lounge Sweat Towel
Brought to you by Liquid Sound Lounge Silk Screen Industries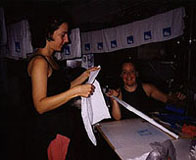 Queen Charlotte and DJ Jeannie Hopper print the towels in a secret lab South of the border. Each towel contains the sweat of their own brows which only increases it's value if you sell it on e-bay.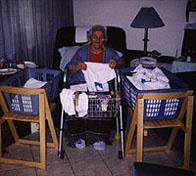 Then the elderly are recruited to process the towels. When the elderly are put to work they experience a feeling of well-being. These good vibes are passed on to your towel.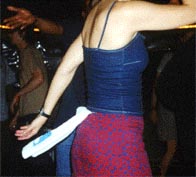 Your own sweat activates its magic powers - giving you the strength to dance all night and into the next morning! If cared for properly, your Liquid Sound Lounge Souvenir Sweat Towel will serve you for many years to come.