LIQUID SOUND LOUNGE RECORDINGS PRESENTS
"Living It"
Martha Cinader
Produced by Jeannie Hopper & Sabine Worthmann
Remixes by Sub Dub and Birth of Cool
RealAudio Files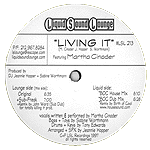 DJ Jeannie Hopper & Sabine Worthmann combine their talents to create an original Jazzy Drum n' Bass style bringing the words of Martha Cinader's "Living It" to life. Tony Edwards (Freedom Sound Recordings) contributes his expert drum & key programming interwoven with the many layers of Sabine's 'un-plugged' & electrified contra-bass & toys. Martha Cinader is the in-house poet of the Liquid Sound Lounge, and the first artist to be signed to the label.

The single features additional mixes including the dub hop trip 'SUB FREAK MIX' from JOHN WARD of SUB DUB who's worked with such luminairies as Arthur Baker, E2-E4 and even Madonna. Birth of Cool contribute a sweet samba house mix and deep dubwww.housesounds.com

The original version of "Living It" is included on Cinader's debut album entitled "Living It!" which features the collective works from her group Po'azz Yo'azz. Check out her site. It has lots and lots of sound files and a video from a live performance at the Mojo Club, Hamburg, Germanywww.poazzyoazz.com/po'azzyo'azz)

Martha Cinader's Po'azz Yo'azz

Combining poetry with jazz, experimental music and dance club beats, featuring the lyrics and vocals of Martha Cinader, bassist and toymeister Sabine Worthmann, percussionist Heinrich Koebberling and turntablist DJ Jeannie Hopper. The group has made appearances at NYC's SOB's, Knitting Factory, Nuyorican Poets Cafe, Tunnel, Robots, Jackie 60, University of the Streets, Soho Arts Festival, and Panasonic Village Jazz Festival. Overseas appearances: Festival Fringe Edinburgh-Scotland, Mojo Club Hamburg-Germany and in Cyber space Connecting Copenhagen & New York City + Hamburg & New York City.

In the DJ Crates of:


DJ Tony Humpheries Hot 97, NYC - In Rotation 5 weeks straight

DJ Doc Martin, Los Angeles-"Interesting Changes in deep bass mix. All mixes are Good"- Heavy Play!

DJ John Alvarado, WVUM-Power 96, Miami- "Wicked Concept. This is Phatness required for my People"

DJ Bruce Wilcox, WOMB & Spec's Music, Miami-"It's Cool. Original for my radio show!"

Phil Turnipseed, DJ Times, NYC- Reminiscent of the Daou's "Surrender Yourself".

DJ A-Gram, Diesel Store, NYC- "Dope Spoken Word, Dope Instrumental, Dope Record!!" Original Mix

DJ Pope, Baltimore- "Good job...Keep it Up!" Liquid Side

DJ Nickodemus, Giant Step, NYC- "Uplifting Vocals. Nice Deep Feel" Original Mix & Liquid Side

Brian Shutta, Scratch Pad, Milwaukee- "I like the different genre's of mixes on one piece of vinyl." BOC DUB

DJ Aou, Step Ahead/12" Dance, D.C.- "tony edward's kickass again on keys." Original & Liquid side

DJ Cozmic Cat, Philadelphia- "Reminds me of Dana Bryant. Go Girl!!" Sub Freak & BOC Mix

DJ John Curley, Chicago- "Dig'm all, but programming BOC mixes"

Tony Aco, Choctaw, OK- "The dub is deep...I'm Loving It!"

DJ Dealer, Denver- Wearing it out! "Lovely, Lovely, Lovely!!" Liquid Side

DJ Garth-Hardkiss, San Francisco- "Fresh" Liquid Side

DJ Niven-Hardkiss, San Francisco- "Lovely vocal, sensible lyrics..punched with rhythm" Sub-Freak mix

DJ Dove, WPSC, New Jersey- "This Record is pretty cool and very different" BOC Mixes

Jason Hodges, CKLN, Scarborough, Canada-"Love it ..poetry over top slammin beats a welcome change!"

Neil Aline, WNYU, NYC-"Good Job! I will play the original!!"

Mike McCloud, Discovery Disco KDBF, LR, AR-"2 Words...THE BOMB!"

CJ @VybeMuzik, Miami-"give me mood, give me feelings, give me drama, that's what living it is about"

Kevin @VybeMuzik, Miami-"I'm very impressed..it's lyrically & musically deep..I'm Living It!"

DJ Snowhite, Beach Radio, Miami-" sooo smoooth & sensual. Keep the ňabstracicity' coming."

Hot Wax Harley, WKNC/WXYC, Durham, NC-"My God!! WOW GAVE ME CHILLS!! HOOK-HIT-HOOK-HIT"

Trevor Nicholas, WRUW, Cleveland-"BOC workin'"

DJ Boom Bip, WAIF, Cinncinati-"I like what LSL Records are all about. Always Supportin'" all mixes.

Luis Lopez, WCRX, Chicago- "Love the product. Record Sounds Phat & definately movin' the masses"

DJ Jezus Juice, Net Radio, Minneapolis- "Great Record! Great Mixes! all Workin"

DJ Sun, KPFT, Houston-"Lovin' the Jazzy Drum and Bass!"

DJ E-Live, KRTM, Temecula, CA-"A hypnotic blend of beats, grooves and poetry"