LOUIE BALO feat. JEANNIE HOPPER
"Guiding Light"
catalog no.: LSL235
RealAudio Files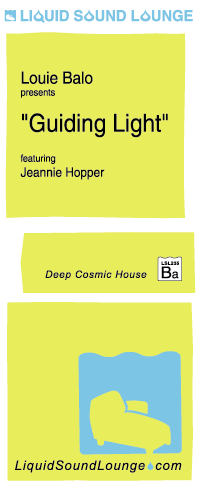 Louie BALO, the producer of house classics like the Ride Comittee featuring Roxy's "Get Huh!" and Giselle Jackson's "Love Commandments", returns with a very deep number that has mystified crowds around the world. The 2001 WMC had them screamin' to Jeannie's 13-hour set at Y&T + Danny Tenaglia's party where all the mixes got played.
There's a deep down dirty bass line with a shufflin' beat on the original and dub versions. The Moonbeam remix (produced by Louie BALO and Jeannie Hopper) is a samba tinged ethereal cut that starts off with quite a dreamy introduction. The cosmic-pella gives all you DJs the opportunity to let your skills shine workin it to great effect with the various mixes.
Guiding Light has been featured on multiple compilations including Global Underground: Moscow mixed by Grammy winners Deep Dish as well as DJ Garth's compilation out on the hot UK label NRK. NRK liked the song so much that they licensed the track and will soon be releasing new mixes by long-time producer/remixer Pete Heller!
REVIEWS


The latest release from LSL is a real treat. The mixes stand alone by themselves. The Original and the Saturn Dub have that early 90's feel to them. Side B presents total bliss. One for the five a.m. crew if there ever was one. Ms. Hopper on the spoken word tip just adds to the star potential of this song. Seek this one out at ALL COSTS.

--Michael Stukes, DMA, June 2001




Harking back to early 90s rave, Louie Balo's "Guiding Light" is as deliriously discordant as any Altern', Actv' and & Ravin' (I'm Ravin') style track. Combining seriously bold beats with uncompromising bass, the sparse landscape of the Original and Saturn Dub mixes are a hypnotic trip down memory lane. They also provide the setting for the whispered vocals of LSL founder Jeannie Hopper, clearly relishing her role as the rave scene's Mystic Meg. Undeniably deep and funky, these pared-down mixes are pale in comparison to the Moon Dust Remix. Free from the gravity of the rest,this mix easily runs rings around the rest of them, with a less challenging beat and essentially more fulfilling finish. Just shut up & dance. (AA)

--Blues and Soul, June 2001




We were feeling this one right out the gate. Producer Louie Balo unleashes a soulful house piece that is highlighted by DJ Jeannie Hopper's sexy spoken word vocals. Make sure you check out the Moon Dust Remix with its deep tech house feel, smoldering bass line and atmospheric keys, an absolute blast. That mix will definitely be the Dj's favorite. There's also a perky Saturn Dub that has a smooth tribal vibe to it. Its one of those 1 a.m. obscure mixes you'll here in the mist of somone's set that'll leave you saying "what was that". No doubt this cut will be played in deep house clubs everywhere. Bangin!

--Phil Turnipseed, Mixer Magazine, June 2001