LIQUID SOUND LOUNGE RECORDINGS PRESENTS
"Burnin'" EP
RuffCut vs. BoC
RealAudio Files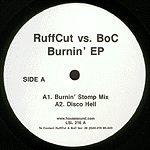 This down and dirty disco house booty shaker ep features Deep Garage style mixes gauranteed to drive the crowd into a frenzy.
Ruffcut is Norbert Borchers & Lars "lb" Behrenroth Birth of Cool (BoC) is Lars "lb" Behrenroth & Michael Carstensen. Learn more about them at their webzine dedicated to house headswww.HouseSound.com
In the DJ Crates of:

Sam Labelle- Sound Works, San Francisco

Darren Davis- Tweekin Records, San Francisco

DJ Bruno- Biscuit Head Records, Boston

Trevor Nicholas- WRUW The Beatbox, Lakewood, OH

DJ AOU- Step Ahead Records & 12" Dance, D.C. on the store chart.

Tyler- Bassix, Vancouver- "Nice n' Funky"

Alain del Corazon- Zebra Records, San Francisco

Gary Givant- Wax Trax, Denver

Wresch Dawidjan- 12" Dance, Washington On the 12" store chart

David Greif- Oracle Records, Gainsville

Todd Saunders- Yesterday & Today, Miami

Darcy Kelley- CFMU, Burlington, Ontario

Terrell Clark- Impact, Philadelphia

Chad Wilson- Worx, Raleigh, NC

Joe Nieberdeen- E.D.'s Gourmet, Atlanta, GA

Gordon- Uncle Sam's Records, Miami Beach

Herbie- Disc Jockey Store, Ft Lauderdale

Mike Huckaby- Record Time, Roseville, MI

Rudy Malinao- Billboard, San Diego, ≥ best sample playback of ≥disco

inferno" I've ever heard" DJTony Aco- Choctaw, TX. ≥Love It!""

Dave- Bassment-Minneapolis, MN

DJ Eddie Amador- Street Sound, Los Angeles

DJ Stephen Cinch- Beat Corporation, Lyndhurst, NJ

DJ Dove- WMSC & Clubs, Hoboken, NJ

Daryll Mandrill Harris- Billboard, Washington, DC

DJ Pope- WEAA, Baltimore, MD

DJ Jesse Martinez- San Jose, CA "this is great work"

DJ Joey Shull- Billboard, Raleigh, NC

Kelvin Kresege - Testpress